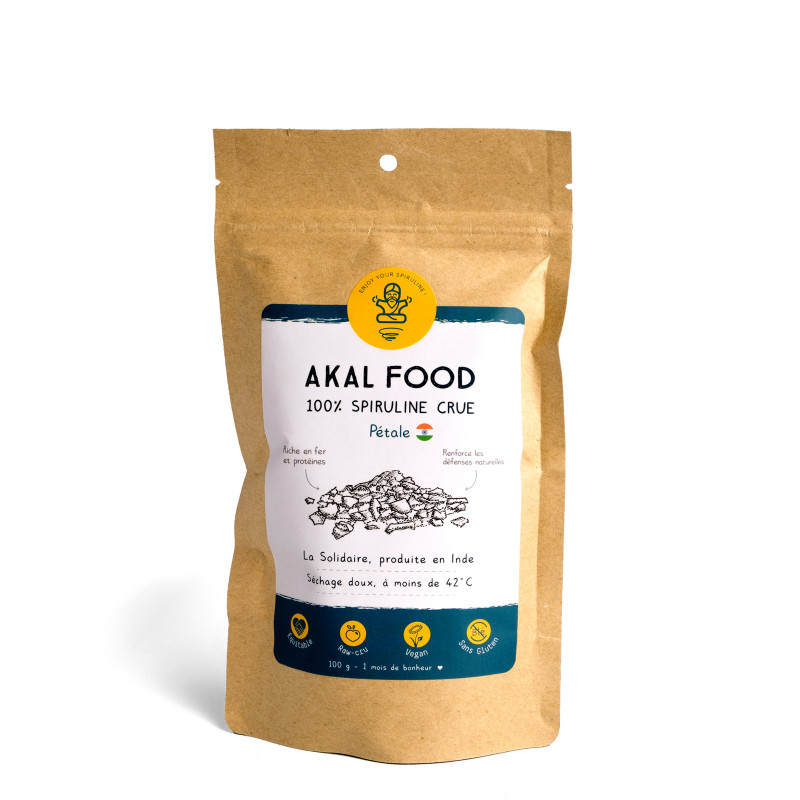  
Fairtrade Flakes
Faitrade, handmade & raw Spirulina flakes, very sweet in taste and airy! 
Reinforces immunity and vitality
Reduces fatigue
Antioxidant, protects from stress
Helps with weight control

The Fairtrade spirulina flakes offers a sparkling touch with a nice crisp. It is a perfect match with all your salads and raw dishes, and this is also the spirulina we use in the Spirumix.  To receive the full iron benefits, it is best to partner with vitamin C (citrus, dark leafy greens, peppers...).
Spirulina is a blue-green microalgae : living food that contains over 60% of proteins, rich in iron, vitam B and beta-carotene (a powerful antioxidant). Its benefits bring you daily vitality through nourishment, detoxification and remineralization. It brings a great boost to your immune system.
Instructions
1 teaspoon (3g)/day minimum
The flakes can be enjoyed on its own or sprinkled amongst your daily meals (pasta, rice and beans, soup, veggies, fish, salad, granola and yogurt).
It can be used as a supplement for a 1 to 3 months program or as food for year round consumption.
Ingredients
100% Spiruline
Keeps fresh for 2 years
Origin
The spirulina flakes comes from Antenna Nutritech Foundation based in Madurai, South India. It is a social enterprise that cultivates spirulina to create awareness on the local population to fight against child malnutrition and AIDS. It is also a training center for the whole of India. Antenna Nutritech began cultivating spirulina in 1995, with the technical support of the Antenna Foundation in Switzerland. Today Antenna works in partnership with Child Fund India, an NGO for the protection and care of children. That set up nutrition programs for malnourished children.
More information : http://www.antennaindia.org/rural2.html#3
Additional informations
Spirulina also contains trace elements (magnesium, potassium, chromium). Its phycocianin (blue pigment) contributes to strengthen ones immune system.
Alkalizing, helping balance your acidic levels.
Contains gamma-linolenic acid which is also found in breast milk.
It is highly recommended for pregnant women, lactating mothers and bottle feeding babies.
It helps athletes with muscle recovery and provide complete proteins.
> Learn more about spirulina's benefits here
SimilarProducts
Discover other products that you will also like