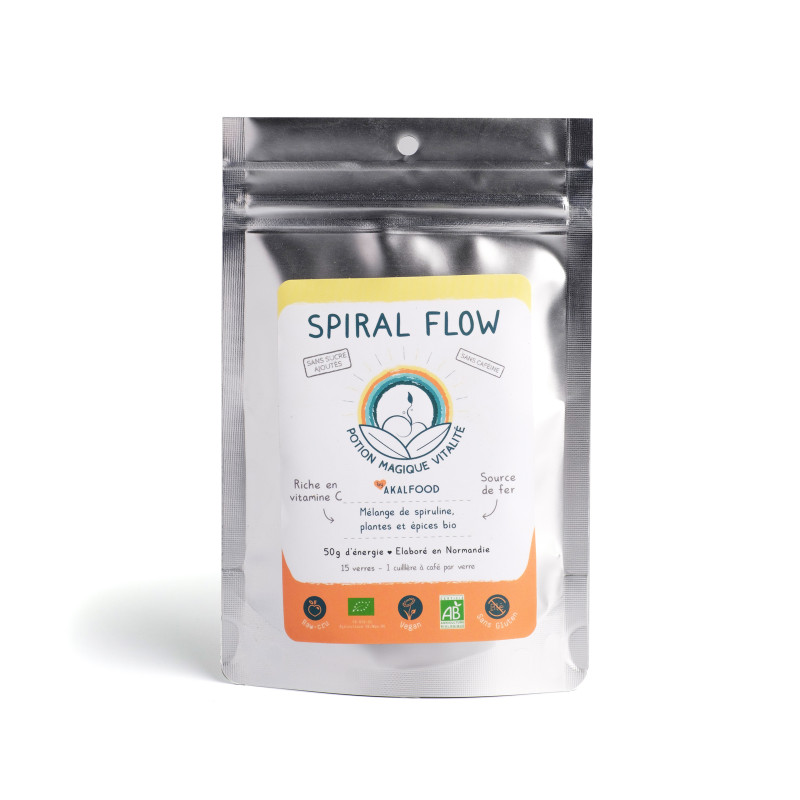  
Spiral Flow 50
Spirulina natural antioxidant organic drink for immune tone, remineralization and sport recovery.
Organic drink with spirulina for recovery and boost its natural defenses!
Reduces fatigue due to iron deficiency
Strengthens natural defenses
In recovery after the effort
Brings vitality when you have a little bit of slack

Spirulina drink, a real magic potion that regenerates, ideal after an effort. Complementary to the Spirtonic, Spiral Flow recharges the batteries* to start new adventures. It revives energy gently.

A source of iron and rich in vitamin C, this soft, slightly sweetened beverage helps reduce tiredness** and stimulates natural defenses*. Vitamin C helps to fix the iron of the spirulina and the nettle.

Athletes will appreciate it especially during the recovery phase for its contribution of proteins and minerals.

It's caffeine-free, suitable for pregnant woman, breastfeeding woman and children.

*Spirulina increases vitality and strengthens natural defenses

**Vitamin C helps reduce tiredness and helps the nervous system
Conservation
1 year
Origin
Made in France, at the ESAT in Colombelles (14).
Data sheet
Desired effects

Anti-fatigue
Antioxydant
Immunoprotective
Iron
Relaxing
Vitamin C
Reviews about this product

Show attestation
Très bon dans un jus multifruits ou un jus de pomme. De quoi faire le plein de fer.

Produit facile à utiliser

la formule est bonne mais je vais le gouter

Produit efficace, délicieux, parfait pour recharger les batteries et dissiper les petits coups de mous.
SimilarProducts
Discover other products that you will also like