On sale!
-25%
 
Choco Display
15 gourmet and soft cocoa bars, 100% raw and vegan
1 DISPLAY = 1 box of 15 bars Choco-Spiru brownie!
(2€ per unit instead of 2,50 €)
A brownie effect to make yourself happy and good !
Cocooning and sweetness guaranteed for the whole family.
For the children's snack or the parents' snack break, this bar will give you energy* and warm your heart at any age!
*Spirulina increases vitality and strengthens natural defenses
The virtues of raw cocoa
Cold ground beans retain all their nutritional properties.
Manufacturing
This bar was made by a local specialist, according to our own recipe and our selection of spirulina.
ENJOY!
SimilarProducts
SimilarProductsDescription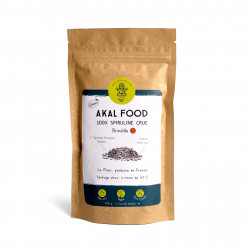 Online Only