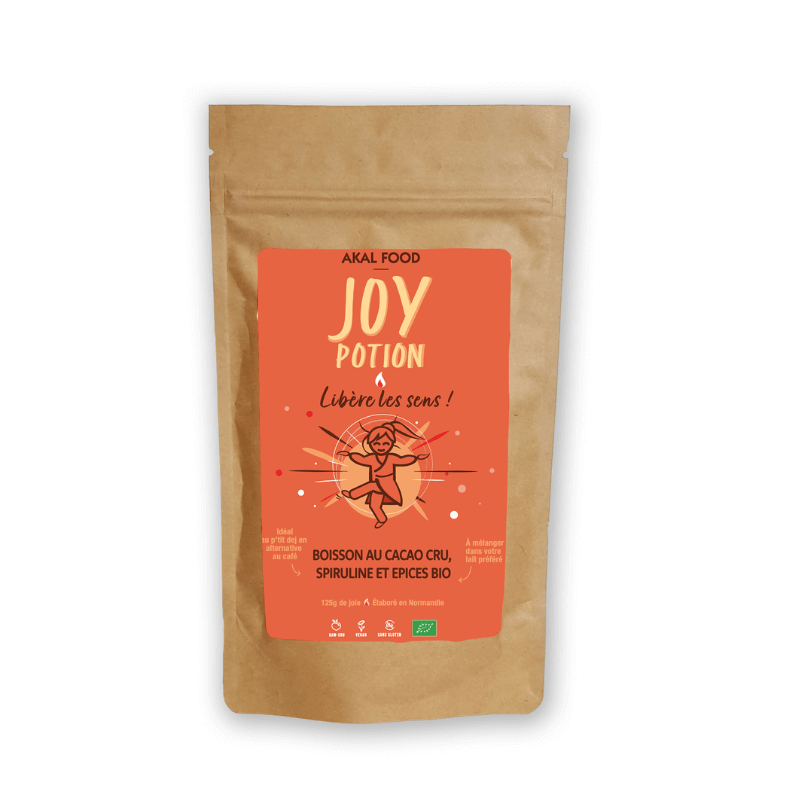  
Joy Potion 125
Gourmet elixir with the good taste of raw cocoa, ginger and spiraling. 
Awaken the senses
Open the heart 
Release the joy
Ideal to start the day as an alternative to coffee !

The Joy Potion is an organic drink with a good taste of cocoa and spices. Great for your creative moments, before your meditations ou your romantic getaways. 
The Criollo raw cocoa from Peru is native to the Amazon basin. It comes from the original cocoa tree, without hybridization. Very rare, it only represents 10% of world production. This gives a grand cru cocoa with very fine aromas of citrus and bananas. The beans of the cocoa trees are cold crushed to retain all their nutritional benefits. Raw cocoa is not only delicious, it is also a powerful anti-oxidant and a complex of trace elements : magnesium, calcium, phosphorus and potassium. Finally, cocoa is known in traditional societies to heal the heart and promote benevolence. Its effect is increased thanks to the combination with spices. 
Ginger and the blend of spices : cardamom, cinnamon, nutmeg and a hint of chili, act on the digestive system and release fire throughout the body.
Maca plays on sexual energy and rooting.
Spirulina allows by its spiral form to potentiate and to put in relation all the ingredients of this potion; key ingredient, it is this which multiplies the synergy between raw cocoa, plants and spices. With 3 scoops of Joy, get ready to go ablaze !
How to consume it ?
1 to 3 teaspoons in a cup of your favorite hot or cold milk depending on the season. It can be consumed for breakfast, afternoon tea or early evening.
1 spoon : awakens the senses
2 spoons : open the heart
3 spoons : Release the joy !
A little advice from a yogi : Ideal in rice milk :) !
Composition
Raw Criollo cocoa from Peru (50%), Coconut sugar (16%), Maca, Spirulina (10%), Dates, Ginger, Nutmeg, Cinnamon, Cardamom, Pepper, Tulsi.
Conservation
18 months
Origin
Made in France, at the ESAT in Colombelles (14)
Format
125g recyclable and resealable bag
Learn more
Our gourmet range combines spirulina with other super foods to indulge yourself while doing yourself good. 
Data sheet
Weight

125 g

Packaging

Pouch

Desired effects

Nourishing
Relaxing
Reviews about this product

Show attestation
J'adore dans un grand verre de lait chaude
SimilarProducts
Discover other products that you will also like