Online Only
On sale!
-30%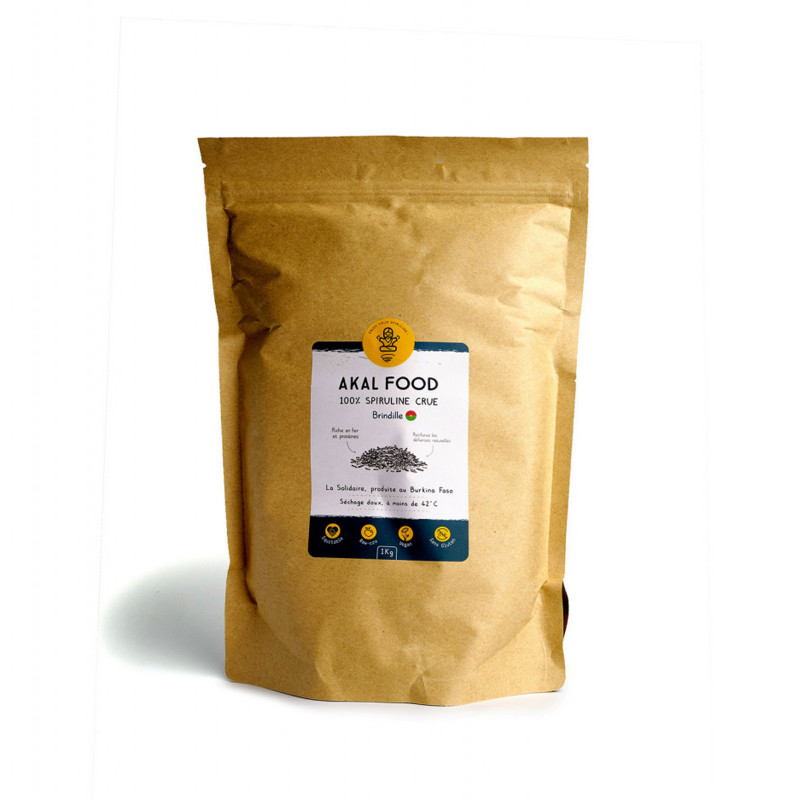  
Fairtrade Brindille 1Kg
Raw and hand made spirulina, with a mild taste and savory crunch !
The fairtrade spirulina brindille has a nice mild taste with a slight crunch. This high quality spirulina can be sprinkled on any dish and is a great condiment to keep on your table. To receive the full iron benefits, it is best to partner with vitamin C (citrus, dark leafy greens, peppers...).
Spirulina is a blue-green microalgae : living food that contains over 60% of proteins, rich in iron, vitam B and beta-carotene (a powerful antioxidant). Its benefits bring you daily vitality through nourishment, detoxification and remineralization. It brings a great boost to your immune system.
Keeps fresh for 2 years
Origin
Artisan spirulina grown in a farm amongst a Bénédictines sisters monastery in Burkina Faso. It is a contemplative Community founded by the Bénédictines from the Abbay Notre-Dame de Protection of Valognes, in Normandy, in 1963. Spirulina has been cultivated there since 2010 and is helping the sisters become self-sufficient. They give 20% of their production to local people in need.
Additional information
Spirulina also contains trace elements (magnesium, potassium, chromium). Its phycocianin (blue pigment) contributes to strengthen ones immune system.
Alkalizing, helping balance your acidic levels.
Contains gamma-linolenic acid which is also found in breast milk.
It is highly recommended for pregnant women, lactating mothers and bottle feeding babies.
It helps athletes with muscle recovery and provide complete proteins.
> Learn more about spirulina's benefits here
Data sheet
EFFETS SOUHAITÉS

Anti-fatigue
DETOX
Fer
Immuno-protecteur
Nourrissant
Reminéralisant
Silhouette
Soleil
Vitalité
Reviews about this product

Show attestation
9.8/10

Based on 17 reviews
Très bonne spiruline. Très goûteuse

même avis que tout à l'heure

Super produit : goût et texture au top !

Une spiruline très douce au goût et très étonnante quand on la met dans de l'eau ; elle est d'un bleu lumineux. Très certainement grâce à un taux de phycocyanine élevé que je ne n'ai jamais remarqué autant présent dans d'autres spirulines.

Très bonne Spiruline. Livraison au top !
SimilarProducts
SimilarProductsDescription