Online Only
Pack
 
Spirulina earth pack
Travel to meet 3 spirulina from around the world
- Deep revitalizes
- 3 different cultures of high quality spirulina
- 3 tastes and textures to reduce fatigue
The Spirulina Earth Pack takes you to discover different forms of spirulina around the world: between the generous sun of India, the hot climate of Burkina Faso and French ecological know-how. Let yourself be carried away by a diversity of textures: solidarity spirulina in petals (India), in powder (Burkina Faso), spirulina in twigs (France).
This pack has been designed to meet the needs:
People who are tired or recovering: the source of trace elements and phycocyanin helps strengthen the immune system
Future moms and nursing mothers to meet iron needs
Vegetarians and people suffering from iron deficiency or anemia for its richness in non-heme iron
Athletes looking for complete proteins
Why choose the Spirulina Earth Pack?
Because you want to take a cure, and you are hesitating between different kinds of quality spirulina. Spirulina in the Spirulina Earth Pack is artisanal, dried at low temperature (less than 42 ° C) in order to retain all of its nutritional properties.
A spiritual and exotic journey from the natural sources of spirulina until its arrival in France
A contribution to child malnutrition in the world and to the local development actions of our partner farms located in India and Burkina Faso.
Details:
Conservation
2 years. Protect from light and moisture
Origin
Spirulina in twigs is cultivated in France. The spirulina in our solidarity range come from our partner farms located in India and Burkina Faso with whom we have been sharing our expertise since 2009 for humanitarian purposes. The cultivated artisanal spirulina is partly redistributed to fight against child malnutrition in these localities. Each batch is rigorously analyzed to guarantee the quality of the spirulina.
LABEL 
Our French twig spirulina is controlled by Ecocert according to the standard for the ecological production of freshwater microalgae. All about theorganic spirulina in France.
Format
3 airtight kraft sachets for 100 g of French, Indian and Burkinabean spirulina.
Composition : 
Spirulina in Twigs (France):find out more
Spirulina Petals (India):find out more
Spirulina Powder (Burkina Faso):find out more
Manual : 
How to consume the Spirulina Earth Pack?
Each sachet of spirulina contains the ideal amount for a cure of 2 teaspoons per day for a month. The spirulina in the sachets are complementary, you can quite take a spoon of twigs and a spoon of petals in the same day for example. It is advisable to consume 1 to 2 spoons of spirulina per day (i.e. 3 to 6g), it all depends on your daily activities and your health.
Our tip: The petals and twigs can be eaten raw or sprinkled on top of your dishes (morning toast, pasta, rice, vegetables, fish, salads, yogurt). Their texture will embellish your recipes and enhance the flavors of each ingredient. Indeed, spirulina is a flavor enhancer!
For optimal integration of its nutritional benefits
Cooking spirulina should be avoided in order to preserve its beneficial properties for the body. The ideal is to couple spirulina with a supply of vitamin C (fresh fruit or pure fruit juice) for better iron absorption. In the same vein, separate taking spirulina for at least 2 hours from your tea / coffee (before and after).
Start the cure gently
Let the spirulina tame your body little by little, starting with small amounts per day (eg 1 half teaspoon per day for the first 3 or 4 days). Then gradually increase to the recommended dose, 1 to 2 tablespoons minimum per day (= 3-6g)
Data sheet
Weight

Packaging

Pouch

Origin



France

Desired effects

Iron
Nourishing
Vitality
SimilarProducts
Discover other products that you will also like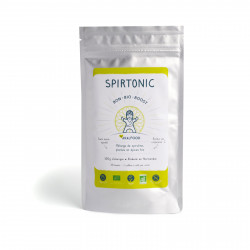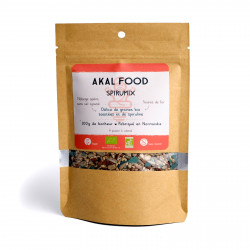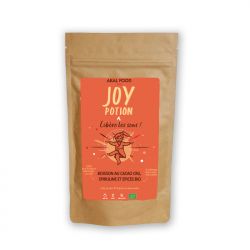 Sachet 500g
Regular price
€95.00
Discount
-15%
Price
€80.75
Online Only
On sale!
-15%