Online Only
Pack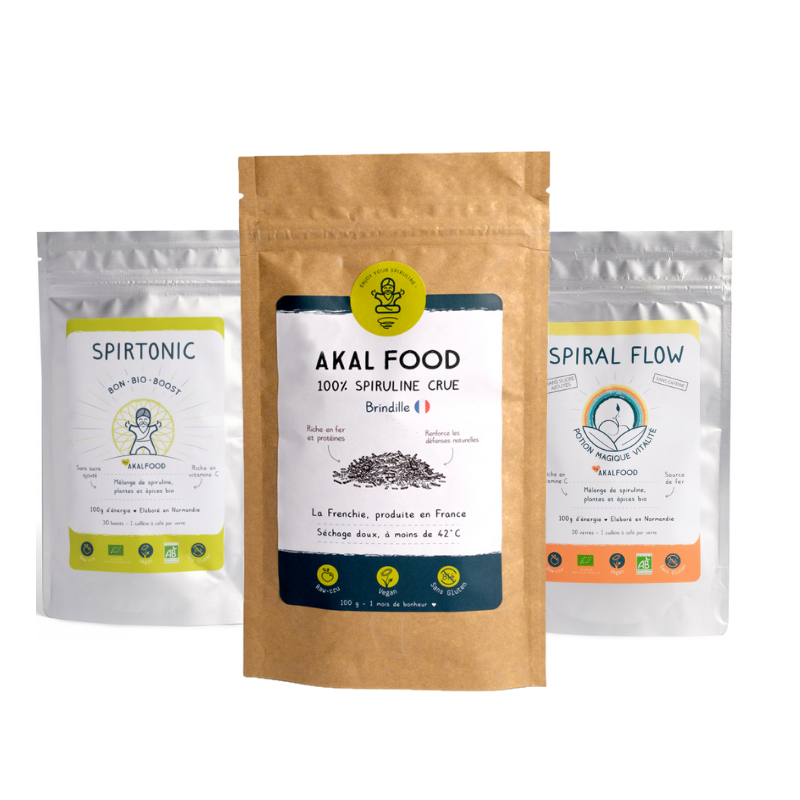  
Kit journée complète
How to start the day well and be in good shape for the whole day? Here are 3 products suitable for different times of your day.  
- Essential daily nutritional intake 
- Consolidates immunity
- Reduces fatigue
- Easy to include in everyday habits
Akal's team's routine start:
First, let's start waking up with a tall glass of spirtonic! 
Spirtonic is an organic powder with spirulina, guarana, acerola and spices which quickly mobilizes your intellectual and physical capacities. This potion works within 15 minutes of tasting. It is simple to use, mix it with your juices and enjoy! 
Gives 4 to 5 hours of energy
Boost concentration and physical tone
Natural alternative to coffee
Awaken the body and the mind!
This unique recipe combines spirulina with superfoods:
Guarana brings mental clarity, concentration and vitality. It is a natural source of caffeine and becomes a brain stimulant. It acts on concentration and the awakening of the senses. In synergy with spirulina, it provides Spirtonic with a stable and balanced effect. 
Acerola rich in vitamin C helps integrate the iron in spirulina while strengthening circulation and immunity.
Spices (cardamom, cinnamon, cloves and black pepper) are used in Ayurveda to stimulate the digestive fire which helps spread the effect throughout the body.
Spirulina is rich in proteins and minerals nourishes and regenerates in depth.
- Instructions for use: Consume 1 teaspoon of Spirtonic in a glass of fruit juice. In apple juice, it's delicious! It can also be consumed in hot water (= 40 ° C) with a teaspoon of honey in cold weather. To drink in the morning!
- Storage: Store 1 year protected from light and humidity.
- Format: bag of 100g
- Certification : organic
Noon is lunch time! The ideal twig spirulina on my dish!
This spirulina can be eaten raw or sprinkled on your dishes (morning toast, pasta, rice, soups, vegetables, fish, salads, yogurt). It brings a very nice crunchy side, not to mention its beautiful emerald green color. Avoid cooking it so that it retains all of its benefits.
This spirulina is natural and artisanal. With its sweetness in the mouth raised by a little saline note and its crunchy texture, it easily finds its place in your daily diet and your culinary recipes.
The spirulina twig is the most raw form of dehydrated spirulina, in particular thanks to its drying at low temperature: this way of working it allows to preserve all its nutrients and its organoleptic qualities. Its richness in proteins, vitamins, iron and other minerals is ideal for deep revitalization.
This product can meet the needs:
People who are tired or recovering: the source of trace elements and phycocyanin helps strengthen the immune system
Future moms and nursing mothers to meet iron needs
Vegetarians and people suffering from iron deficiency or anemia for its richness in non-heme iron
Athletes looking for complete proteins
Instructions for use: We advise you to start your treatment gently. Let your body get used to it by starting with a teaspoon per day for the first three days. The recommended dose is a minimum of one to two tablespoons per day (= 3-6g), depending on your activities and energy expenditure for the day.
- Storage: Store 2 years away from light and moisture
- Origin: The Frenchie Ecocert is a French artisanal spirulina cultivated using renewable energies, We support farms to installation via our design office: www.hyes.eu. Each batch is systematically analyzed to ensure that we are offering you a healthy and qualitative product.
- Format: 100g kraft bag
- Certification: Ecocert
It's snack time ? Let's taste a Spiral Flow!
An antioxidant organic drink with spirulina. Real magic potion which regenerates. Very complementary to Spirtonic, Spiral Flow recharges the batteries to set off again on new adventures. It gently revives the energy. Source of iron and rich in vitamin C, this soft and slightly sweet drink helps reduce fatigue and stimulates the natural defenses. Vitamin C intake helps fix the iron found in spirulina and nettle.
Directions: Consume one teaspoon of Spiral Flow in a glass of juice. Ideal in organic apple juice! But it will also go very well with your favorite juice too! It can also be mixed with hot water (= 40 ° C) with a teaspoon of honey during the snack break. The Spiral Flow is preferably consumed as a cure to optimize its effects. 1 teaspoon per day for a minimum of 1 month.
- Storage: Store 1 year protected from light and humidity. 
- Origin: made in Normandy and packaged by the disabled worker at ESAT Colombelles (14)
- Format: bag of 100g
- certification: organic
3 complementary drinks! You can consume one scoop of each Full Day Kit product each day. As a reminder, the recommended dose of spirulina is 3 to 9 g / day depending on your activities during the day.
 Composition :
Data sheet
Weight

Packaging

Pouch

Prepared in

Normandie

Origin

France

Desired effects

Iron
Nourishing
Remineralizing
Sport
Vitality
Vitamin C
SimilarProducts
Discover other products that you will also like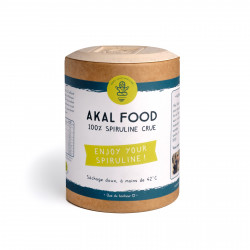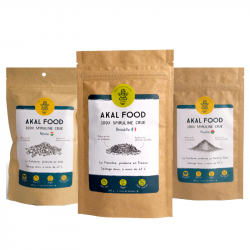 Online Only
Pack