Online Only
On sale!
Pack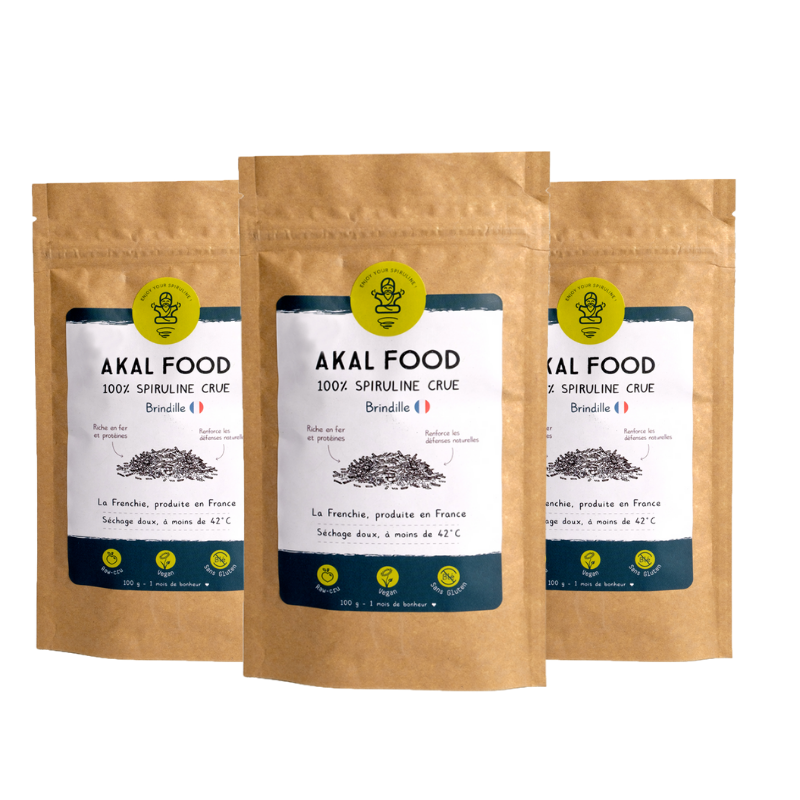  
Favorite: Cure 3 months
Favorite of our team of specialists for a 3-month cure. A crisp ecological spirulina, 100% French and dried at low temperature.
- Revitalizes
- Reduces fatigue
- Participates in weight control
This batch of Ecocert and French ecological spirulina twigs is ideal for starting a 3-month cure. The cure is the best way to see the effects of spirulina on the body. This spirulina is natural and artisanal. With its sweetness in the mouth enhanced by a little saline note and its crunchy texture, it easily finds its place in your daily diet and your culinary recipes.
The spirulina twig is the rawest form of dehydrated spirulina, in particular thanks to its drying at low temperature: this way of working it allows to preserve all its nutrients and its organoleptic qualities. Its richness in proteins, vitamins, iron and other minerals is ideal for deep revitalization.
This product can meet the needs:
People who are tired or recovering: the source of trace elements and phycocyanin helps strengthen the immune system
Future moms and nursing mothers to meet iron needs
Vegetarians and people suffering from iron deficiency or anemia for its richness in non-heme iron
Athletes looking for complete proteins 
Why choose Ecocert French spirulina in twigs?
A sweet-tasting, particularly crunchy spirulina, cultivated in France by passionate professionals.
Spirulina processed with careful quality know-how: drying at low temperature (less than 42 ° C for 7 to 8 hours) which allows all the nutritional properties of spirulina to be preserved.
A 100% pure Ecocert ecological spirulina: without GMOs or pesticides, without additives or excipients, under the control of analytical laboratories.
A spirulina cure for vitality
A real boost of vitality, spirulina reduces body fatigue and stimulates the immune system thanks to its great nutritional value:
Complete protein (60-70%), as well as all essential and non-essential amino acids
Vitamins B, D, K… for great vitamin power!
A rainbow of pigments: chlorophyll, carotenoids, phycocyanin and porphyrin.
Enzymes: key antioxidant superoxide dismutase or SOD.
An important source of minerals and trace elements: iron, calcium, magnesium, phosphorus, potassium, zinc, selenium, sodium, copper, chromium, cobalt ...
Fatty acids: alpha-linolenic acids and gamma-linolenic acids (found only in breast milk)
> Discover the benefits of spirulina
Conservation
2 years. Store away from light and humidity.
Origin
Spirulina is cultivated in ecological agriculture in France by our partner farms with which we share our expertise. Each batch of spirulina is analyzed to guarantee a qualitative and healthy product. Spirulina is packaged by disabled workers at ESAT Colombelle (14).
LABEL
Our experimental and educational farm as well as our partner farms are controlled by Ecocert according to the standard for the ecological production of freshwater microalgae.
Everything you need to know about the regulation of organic spirulina in France
Format
3 airtight kraft sachets for 100 g of French ecocert spirulina in twigs. Very practical and reusable!
Composition:
Ingredient: French Spirulina (100%) certified ecocert.
Composition nutritionnelle

Pour 100g

Pour 5g

%AQR*pour 5g

Energie

1537 Kj

365 Kcal

76,85 Kj

18, 25 Kcal

0,91 % 

0,91%

Graisses dont:

acides gras saturés

7g

3g

0,35g

0,15g

0,5%

0,75%

Glucides dont:

sucres

7,9g

1,6g

0,39 g

0,08 g

0,15%

0,09%

Protéines

64,5g

3,22g

6,4%

Sel

3,1g

0,15g

2,55%

Magnésium

232 mg

11,6mg

3,09%

Fer

58,6 mg

2,93mg

20,94%

Vitamine A (issue du bêta-carotène)

13,433mg

0,67mg

83,95%

Vitamine B1-Thiamine

3,5 mg

0,17mg

15,91%

Vitamine B2-Riboflavine

3,2mg

0,16 mg

11,43%

Vitamine E

7,3 mg

0,36 mg

3,04%

Phycocyanine

20527

1026

-

C-Phycocyanine

14600

730

-
Manual :
How to consume French spirulina ecocert twig?
Each sachet of Ecocert spirulina twigs contains the equivalent of a month's cure, at a rate of 2 teaspoons per day.
Our tip:
This spirulina can be eaten raw or sprinkled on your dishes (morning toast, pasta, rice, soups, vegetables, fish, salads, yogurt). It brings a very nice crunchy side, not to mention its beautiful emerald green color. Avoid cooking it so that it retains all of its benefits.
See recipe ideas
Do you want to get started and discover the effects of spirulina?
We advise you to start your treatment gently. Let your body get used to it by starting with a teaspoon per day for the first three days.
The recommended dose is a minimum of one to two tablespoons per day (= 3-6g), depending on your activities and energy expenditure for the day.
For a better assimilation
Combine the spirulina from your cure with fresh fruit, so vitamin C will fix iron better. Separate your consumption of spirulina for at least 2 hours from your tea / coffee. The tannins they contain prevent proper absorption of iron.
1kg of spirulina twig offers an advantageous price for spirulina lovers who wish to consume it all year round offers spirulina per kilo
Data sheet
Weight

Packaging

Pouch

Origin

France

Desired effects

Detox
Fit
Immunoprotective
Vitality
SimilarProducts
Discover other products that you will also like
Boîte 15 barres
Regular price
€36.00
Discount
-15%
Price
€30.60
On sale!
-15%
Sachet 500g
Regular price
€95.00
Discount
-15%
Price
€80.75
Online Only
On sale!
-15%