Online Only
 
Spiral Flow 40
Organic spirulina drink for recovery and boost your natural defenses !
Reduces fatigue related to iron deficiency
Strengthens natural defenses
In recovery after the effort
Brings vitality when you have a little slack

What is Spiral Flow ?
Spirulina drink, a real magic potion that regenerates, ideal after an effort. Very complementary toSpirtonicSpiral Flow recharges the batteries * to set off again on new adventures. It gently revives the energy.
Source of iron and rich in vitamin C, this soft and slightly sweet drink helps reduce fatigue ** and stimulates the natural defenses *. Vitamin C intake helps fix the iron found in spirulina and nettle.
Athletes will appreciate it especially in the recovery phase for its protein and mineral intake.
Without caffeine, it is suitable for pregnant women, nursing mothers and children.
* Spirulina increases vitality and strengthens natural defenses
** Vitamin C contributes to reduce fatigue and helps the normal functioning of the nervous system
Conservation
1 year
Origin 
Made in Normandy, by disabled workers at ESAT Colombelles (14).
Ingrédients
Spirulina (40%), acerola *, nettle, banana, tulsi, ginger, cinnamon, cloves, cardamom, black pepper.
100% of the ingredients are from organic farming
* Fair Trade and Demeter (Biodynamic Label)
Format
40g doybag
Recipe (photo) Apricot-coconut sun juice,

it's here

.
You want recipe ideas for preparing and eating spirulina on a daily basis, take a look on our blog. 
SimilarProducts
Discover other products that you will also like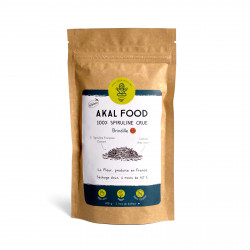 Online Only