Online Only
-15%
Pack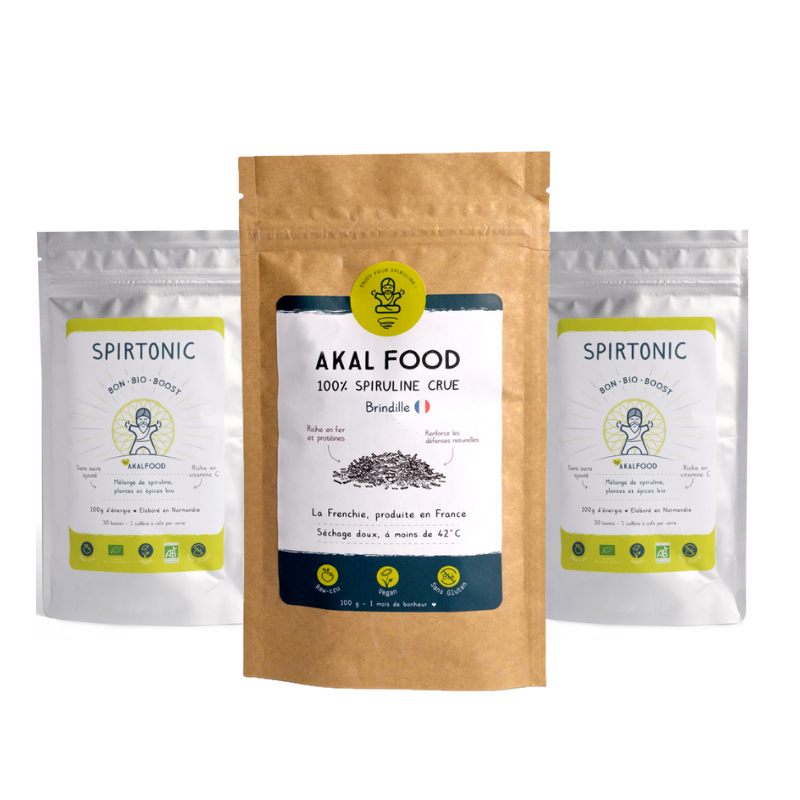  
New resolution pack
Start the year off on the right foot after the holidays! An ideal pack to persevere in all your good resolutions.
- Revitalizes
- Stirs up a wind of energy in the body
- Protects from stress
- Participates in weight control
- Boost of immunity
Start the year off on the right foot with spirulina twigs to lighten up after the holidays, and Spirtonic to give you motivation and dynamism to achieve your good resolutions, whether:
For better chore management: start your missions faster and it will be finished even faster!
Forget your talent for procrastination (and even forget what that word means!)
To accompany you to the gym: gain a loyal ally
Face energy-hungry days (trade fair, seminar, meeting) with a dazzling form
To move step by step towards your dreams
This pack has been designed for:
People who are tired, or who are not early in the morning ;)
Athletes looking for iron, complete proteins and minerals for their training and competitions.
Parents who want to feel as much energy as their children
Future athletes or procrastinators lacking motivation ;)
Professionals who need to keep in shape and their concentration for large meetings, exhibitions, seminars ...
> Discover the benefits of spirulina  
Why choose the New Resolutions Pack?
Because it is a concentrate of motivation!
A 100% pure, French and crunchy spirulina, sweet in the mouth, cultivated with love by true enthusiasts and dried at less than 42 ° C to preserve its high qualities
Two energizing and organic Spirtonic preparations for a great energy boost, ideal for those who have trouble waking up in the morning or to improve your athletic performance
See article:boost your sports performance with spirulina
Conservation
2 years. Store away from light and humidity.
Origin
Spirulina is cultivated in ecological agriculture in France and in organic agriculture in Europe by our partner farms with which we share our expertise. Regular analyzes of spirulina are carried out to guarantee the quality of each product.
LABEL 
Our French spirulina is certified by the independent organization Ecocert according to the standard for the ecological production of freshwater microalgae. All you need to know about the regulation of organic spirulinain France
Format
3 airtight kraft sachets for 200 g of "tonic" preparation based on spirulina and 100 g of spirulina in twigs. Reclosable packaging, not very bulky and therefore easily transportable.
Composition : 
Frenchie Spirulina
Ingredients: 100% spirulina 
Composition nutritionnelle

Pour 100g

Pour 5g

%AQR*pour 5g

Energie

1537 Kj

365 Kcal

76,85 Kj

18, 25 Kcal

0,91 % 

0,91%

Graisses dont:

acides gras saturés

7g

3g

0,35g

0,15g

0,5%

0,75%

Glucides dont:

sucres

7,9g

1,6g

0,39 g

0,08 g

0,15%

0,09%

Protéines

64,5g

3,22g

6,4%

Sel

3,1g

0,15g

2,55%

Magnésium

232 mg

11,6mg

3,09%

Fer

58,6 mg

2,93mg

20,94%

Vitamine A (issue du bêta-carotène)

13,433mg

0,67mg

83,95%

Vitamine B1-Thiamine

3,5 mg

0,17mg

15,91%

Vitamine B2-Riboflavine

3,2mg

0,16 mg

11,43%

Vitamine E

7,3 mg

0,36 mg

3,04%

Phycocyanine

20527

1026

-

C-Phycocyanine

14600

730

-
* AQR: Reference intake for a typical adult (8400Kj / 2000Kcal) "
Spirtonic
IIngredients: Spirulina (40%), premium guarana (30%), pure dried acerola (25%), ginger, cinnamon, cardamom, black pepper and cloves. 100% of ingredients from organic farming. FR-BIO-01
Composition nutritionnelle

Pour 100g

Pour un verre soit 1 cuillère à café (3g)

%AQR*

Energie

1534Kj / 362Kcal

51Kj / 12 Kcal

30%

Lipides dont:

acides gras saturés

3,5g

0,9g

0,12g 

0,03g

5%

4,5%

Glucides dont:

sucres

51,2g

10,8g

1,71g

0,36g

19,7%

12%

Protéines

31,4g

1,05g

62%

Vitamine C

3g

100mg 125% AQR

3750%

Caféine

1,41g

43g

/

Sel

1,41g

0,05g

23,5%
This spirulina-based preparation contains caffeine. It is not recommended for pregnant and breastfeeding women, as well as for children.
Manual :
How to use this spirulina pack for your new resolutions?
A Blast of Energy: The two sachets of Spirtonic each contain the equivalent of 1 month of daily boost (2 teaspoons per day). Enough to start the day with several hours of energy in front of you!
Our tip: Spirtonic diluted in pure fruit juice not too sweet is irresistible (apple juice for example). Consume in the morning instead of coffee, or 30 minutes before the planned energy-intensive exercise.
A jewel of twigs: The content of the Ecocert sachet of spirulina twigs corresponds to 1 month of daily intake of spirulina, at the rate of 2 teaspoons per day.
Our tip: The twigs can be eaten raw or sprinkled on your dishes (morning toast, pasta, rice, soups, vegetables, salads, yogurt). Crunchy in the mouth, it reveals the flavors of the ingredients with which you associate it thanks to its texture and its flavor enhancer effect. It is advisable to avoid any cooking of spirulina to preserve its benefits.
A great complementarity: Spirtonic and spirulina in twigs can be consumed in the same day (1 spoon each for example). The recommended amount of spirulina is a minimum of 1 to 2 scoops per day (= 3-6g), depending on your daily activities and your energy expenditure for the day. If you are not used to spirulina, we recommend that you start your spirulina intake gently. Allow your body to adjust to this superfood by starting with a teaspoon per day for the first three days.
Data sheet
Weight

Packaging

Pouch

Prepared in

Normandie

Origin

France

Desired effects

Anti-fatigue
Detox
Fit
Immunoprotective
Iron
Nourishing
Remineralizing
Vitality
SimilarProducts
Discover other products that you will also like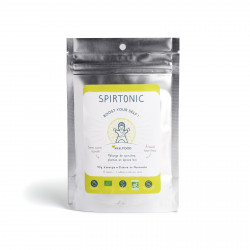 Sachet 500g
Regular price
€95.00
Discount
-15%
Price
€80.75
Online Only
On sale!
-15%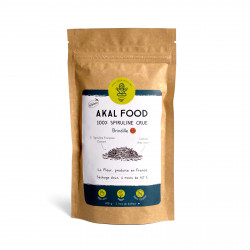 Online Only