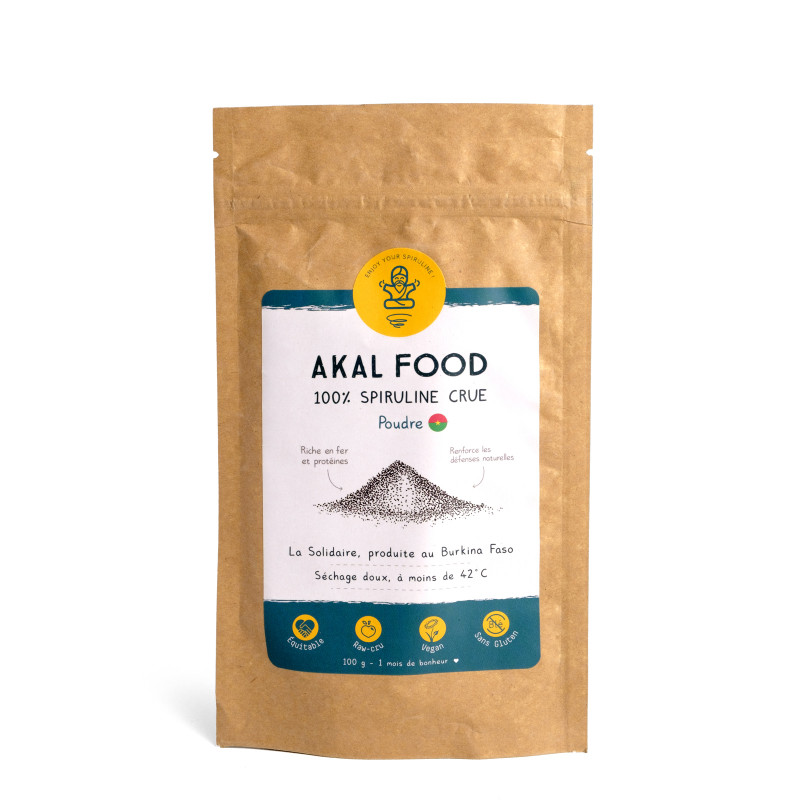  
Fairtrade Powder
Fairtrade & raw and artisanal spirulina powder, ideal for juices!
Reinforces immunity and vitality
Reduces fatigue
Antioxidant, protects from stress
Helps with weight control

The Fairtrade spirulina powder offers a mild taste and comes in style that is easy to consume. This high quality spirulina powder is grinded on a millstone at low temperature. It can be added to your favorite juices, smoothies and it is ideal to incorporate in all your raw recipes. To receive the full iron benefits, it is best to partner with vitamin C (citrus, dark leafy greens, peppers...).
Spirulina is a blue-green microalgae : living food that contains over 60% of proteins, rich in iron, vitam B and beta-carotene (a powerful antioxidant). Its benefits bring you daily vitality through nourishment, detoxification and remineralization.
Keeps fresh for 2 years
Origin
Artisan spirulina grown in a farm amongst a Bénédictines sisters monastery in Burkina Faso. It is a contemplative Community founded by the Bénédictines from the Abbay Notre-Dame de Protection of Valognes, in Normandy, in 1963. Spirulina has been cultivated there since 2010 and is helping the sisters become self-sufficient. They give 20% of their production to local people in need.
Additional information
Spirulina also contains trace elements (magnesium, potassium, chromium). Its phycocianin (blue pigment) contributes to strengthen ones immune system.
Alkalizing, helping balance your acidic levels.
Contains gamma-linolenic acid which is also found in breast milk.
It is highly recommended for pregnant women, lactating mothers and bottle feeding babies.
It helps athletes with muscle recovery and provide complete proteins.
> Learn more about spirulina's benefits here
Data sheet
Desired effects

Anti-fatigue
Detox
Fit
Immunoprotective
Iron
Nourishing
Remineralizing
Sun Protection
Vitality
Reviews about this product

Show attestation
C'est la raison pour laquelle j'ai commandé

je le connais très efficace!!

bon produit que je prend avec un verre de jus et boost ma journée active!

facile à utiliser, à intégrer dans l'alimentation.

Très content, dommage qu'il n'y est pas de 1kg en france

Merchant's answer

Bonjour Alexis, Jusqu'à présent, nous étions limités et c'est pour cela que nous avons agrandi la ferme. Nous espérons ainsi proposer dans l'été le KG ou le demi Kilo.
SimilarProducts
Discover other products that you will also like