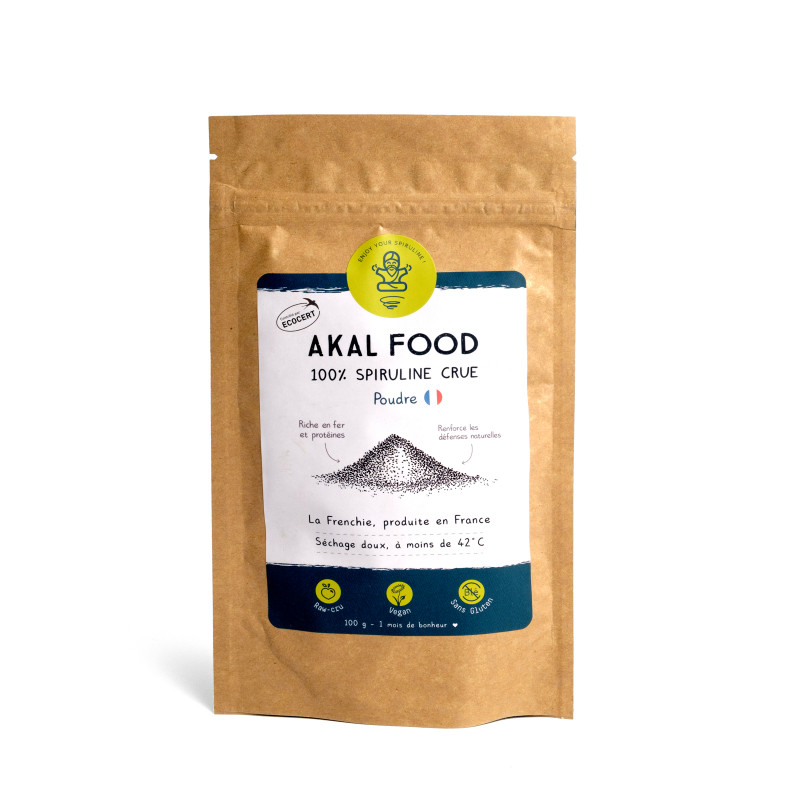  
Frenchie Powder Ecocert
Raw and hand made, with a mild taste and vibrant feel !
Ecological Spirulina produced in France. Very sweet in taste, ideal for juices.
Reinforces immunity and vitality
Reduces fatigue
Antioxidant, protects from stress
Helps with weight control

The Frenchie spirulina powder offers a mild taste and comes in style that is easy to consume. This high quality spirulina powder is grinded on a millstone at low temperature, inferior to 42°C. This preserves all the nutrients present in the spirulina. It can be added to your favorite juices, smoothies and it is ideal to incorporate in all your raw recipes. Spirulina is rich in iron and its iron is much more easy to assimilate than in any other food. To receive the full iron benefits, it is best to partner with vitamin C (citrus, dark leafy greens, peppers...).
Spirulina is a blue-green microalgae : living food that contains over 60% of proteins, rich in iron, vitam B and beta-carotene (a powerful antioxidant). Its benefits bring you daily vitality through nourishment, detoxification and remineralization.
Keeps fresh for 2 years
Origin
The Frenchie is an artisan spirulina grown in France utilizing renewable energy sources. Cultivated in farms that we have been supporting since their inception. www.hyes.eu
Additional informations
Spirulina also contains trace elements (magnesium, potassium, chromium). Its phycocianin (blue pigment) contributes to strengthen your immune system.
Alkalizing, it helps balancing your acidic levels.
Contains gamma-linolenic acid which is also found in breast milk. 
It is highly recommended for pregnant women, lactating mothers and bottle feeding babies.
It helps athletes with muscle recovery and provide complete proteins.
> Learn more about spirulina's benefits here : https://akalfood.com/bienfaits
Data sheet
Desired effects

Anti-fatigue
Detox
Fit
Immunoprotective
Iron
Nourishing
Remineralizing
Sun Protection
Vitality
Reviews about this product

Show attestation
9.8/10

Based on 26 reviews
tres bon produit ,c'est ma 2eme commande, je constate que ca me donne plus d'energie en cette periode hivernale ;facile et agreable a boire dans un jus de fruits ou du lait vegetal.

La spiruline est très douce, la poudre très fine, facile à utiliser.

Spiruline très digeste et facile à utiliser

J'ai assisté à la fabrication pendant la visite de la ferme. Produit excellent pour passer l'hiver

Répond complétement à mes attentes.

J'apprecie que soit specifié la provenance de production, trés bon produit, facile a consommer, gout agréable.
SimilarProducts
Discover other products that you will also like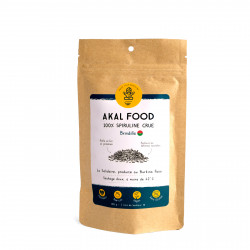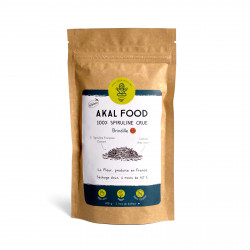 Online Only